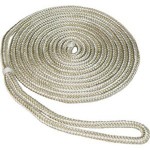 Look at this amazing deal on a 5/8 inch X 25 foot dock line, available in 3 colors. As of 2/15/12 this dock line has up to a 38% discount. This is a great time to outfit your boat for the upcoming season with a new dock line or with new dock lines. Save up to 38% on dock lines today!
Dock Line – Seasense Double Braid Nylon Dockline
A new dock line will give your boat a sharp well-kept look with premium pre-spliced double braid nylon dock lines. Both the cover and the core of these dock lines are manufactured from the highest quality marine grade nylon giving you the strongest and easiest dock line to handle. Whipped on the splice and bitter end.
Dock Line Features
These dock lines are available from 1/2 inch X 15 feet in length to 5/8 inch X 25 feet in length. Giving you the ability to get the right dock line for your boat.
Construction Braid on Braid for quality, strength and durability for your vessel. Not to mention they look great too.
Safe working load 410-Pounds and breaking strength 3900-Pounds.
Eye 10-Inch, load light.
This dock line is available in 3 colors; Gold White, Blue and Black.
Order your dock line here by size and color:
Gold White Dock Line
Blue Dock Line
Black Dock Line